The name "Turtle Cove" actually refers to three different places. There is the Turtle Cove pond, also known as "The Prairie," three miles to the southeast at the end of the Galva Canal, out in the marsh by the Lake Pontchartrain shore (where the turtles presumably hang out); there's the Turtle Cove Office and Educational building and docks on the Galva Canal, across the tracks in "downtown" Galva and there's the big green, turn-of-the-last-century Edward Schlieder Mansion that houses the Turtle Cove Environmental Research Station and its magnificent boardwalks out back. It's four miles to the east, down the south bank of Pass Manchac, across from where North Pass merges with the Main Pass and Lake Pontchartrain. 
There is an extensive half-mile long boardwalk system in the marshes in back of Turtle Cove where scientific experiments are conducted and tours self-guided tours by way of posted signs, handouts and web pages: 
​https://southeastern.edu/acad_research/programs/turtle_cove/assets/boardwalk_pdf_files/brochure_2011.pdf
and 
https://www.southeastern.edu/acad_research/programs/turtle_cove/education_outreach/field_trips/boardwalk_pdf_files/index.html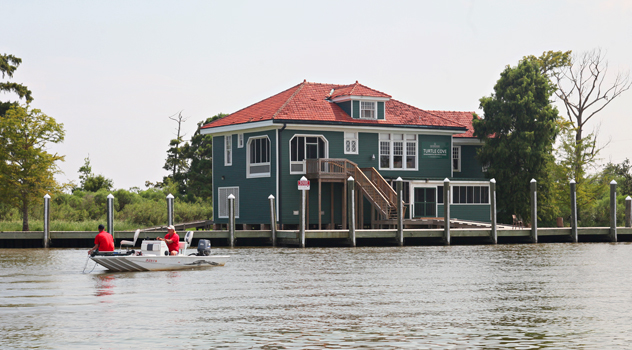 The Southeastern Louisiana University facility does a wonderful job of educating teachers and students on many aspects of our coast and in conducting scientific research on the characteristics of the evolving oligohaline (brackish water/intermediate marsh) environment.